MUSIC
Music Through the Day
Robert doesn't waste time.  Each minute is precious, not to be wasted on guilt, regret, revenge, or anger.   He actively seeks out the beauty of each day, and he seeks out encounters with people and nature. Robert celebrates this beauty through his creative art:  poetry, stories, woodcarvings, and music. 
In Summer Words, 2000 (©2001), Robert wrote:
I am not lonely and this is good, but I still know fear.
Not fear of evil or death or the rushing torrents of time washing my mortal being wildly
toward inevitable and irreversible answers.
I fear a destiny that comes from gifts wasted, songs unsung, poems lost to silences,
sunrises lost to sleep.
Almost every day I wake up to music.
He is usually sitting in the recliner, leaning forward, playing the guitar or banjo, and singing one of the songs he has created for a new day.
His morning music celebrates the beauty of the day and life.  Two are "Oh, Lovely Day" and "Good Morning."   Of all the songs Robert has written and played, "Oh, Lovely Day" is my favorite. It always makes me cry.
Following the lyrics below are links to Robert singing these songs. (Click the symbol and the music will play.)
Oh, Lovely Day
(Chorus)
Oh, lovely day
I awake, you're beside me.
Sweet light of dawn
spills over you.
I see you there,
and it makes me happy.
Love, rest a little longer,
ere we pass on through.
Like sunlight glimpsed
through hawk wings passing,
like a rainbow sprayed
by a wet-road car;
it's a long day's truth
for joy's short moments.
It can take a world of waiting
to discover who we are.
(Chorus)
With toil and time,
hanging on for paychecks.
With bills and frills,
false fronts to show.
I wonder if
these chores take meaning,
or it's just a bunch of decades
and back to dust we go.
(Chorus)
So, take your love and leave,
find a road, head on down it;
not heading where
but living now.
And seek the bliss
of the mysteries turning,
before you're too damned weary
to remember how.
(Chorus)
Good Morning 
Good morning to the sunshine on the mountain.
Good morning to the gently melting snow.
Good morning to the skyward pointing pine trees
I wonder where this day is going to go.
Well, I woke up this morning
without thinking.
I laughed and thought this world
a place to be.
And when I looked outside
my window,
there was Mother Nature
grinning back at me.
Good morning to the sunshine on the mountain.
Good morning to the gently melting snow.
Good morning to the skyward pointing pine trees
I wonder where this day is going to go.
Music is Robert's mainstay and he brings it into our lives.  He loves to sing and frequently breaks into an impromptu song.   It may be an old favorite or a new one created on the spot.   He has a wonderful voice, but sometimes he breaks into a disturbing falsetto and sings a bit of opera, or a touch of Ethel Merman belting out "I Love Paris." He is a man of surprises. He may have inherited this talent his father who could muster up a perfect Katharine Hepburn voice saying the line,"The calla lilies are in bloom again." (From the movie, Stage Door, 1937.) Their imitations were spontaneous and always a shock. 
Robert's love of music came from his parents.  Every morning his mother woke Robert and his sister, Nancy, with a rousing chorus from a song called "Good Morning, Glory."  To fully appreciate it, you would need to have been there.  This song, coming from their mother, would wake up anyone.  Their mother was a fine woman in every respect, but sometimes the high note on the first syllable of the word "Glory" in this good morning song would rattle your bones.  According to Robert, his mother "sang from the heart."  (Nancy has carried this song and the shocking high note into the next unsuspecting generation.) 
Robert's father played an old Kalamazoo guitar which had floated in the living room of their home during the 1949 Meramec River flood in Missouri.  Robert and his sister grew up with guitar playing and singing.  Robert started playing guitar when he and I were about fourteen.  He would call me on the phone and tell me he was learning a new song and then he'd play it for me.  He certainly has improved over the years.  Those phone calls always made me laugh.  When Robert was older, he and his father loved playing and singing together. 
Some mornings I wake up, not to the sound singing and guitar music, but to the sound of the drumming of a good-morning rhythm or a meditative drumming sending strength and comfort to a friend or other being in need.   This is done on the drum he constructed and carved himself.
Kristin and Music
Our daughter Kristin grew up surrounded by music.  "You Are My Sunshine" was part of her life from the first day she came home to us.  To this day, if one of the three of us is "down" or upset about something, the other two will start "You Are My Sunshine" and keep going until the one who is upset joins the singing.  It's a good plan and it works. (We usually just stick to the chorus and leave out the sad verses.)
Kristin has always been a great fan of Robert's music.
When she was very young, Robert made up little songs for and about her. One song, "K-R-I-S-T-I-N," taught her to spell her name plus "mama," "daddy," and the names of friends and relatives.
Another, "The Family Song," emphasized the love among the three of us.
When Kristin was young and getting ready for school in the morning, Robert would sing this song to her, "Kristin's Getting Dressed."
"Kristin's on Her Swing," is a song Robert wrote to celebrate the joy
he experienced while watching her one day when she was on her swing.
Composition:  Music and Song Lyrics
As a man of words, Robert has strong feelings about the impact of song lyrics.  He wrote about this in "The Songs We Sing" in Uncle Bob's Big Book of Happy (©2012).  In this short piece you can also see that singing under the wrong conditions (Robert) can result in his life-partner (Me) desperately wishing she could disappear.
LINK to The Songs We Sing
Robert plays several instruments: guitar, mandolin, banjo, harmonica, keyboard, and mountain dulcimer.  He has written many songs and recorded them in his studio.  You can hear the wide variety of his work, and his enthusiasm is obvious.  In some you hear several people, or even a choir, and in some several instruments playing:  banjo, mandolin, guitar, keyboard, and occasionally sticks beating on tin cans or the kitchen stove and a variety of cooking pans.  He says these songs are performed by the "All Bob Band," but strangely, he is the only one in the room recording.   The wonders of what a talented man can do with a multi-track recorder.  Here are links to multi-instrumental pieces with all the musical instruments played by Robert.
"Drought Song"
"RV's Heading for the Hills"
"Robert's Jam"
"A Little Waltz"
LAUGHTER
Spontaneous Comments and Notes
I have known Robert for over sixty years, and he has always been supportive and almost always positive even during rough periods of our lives together. He is so very funny. Many times, he will say something "out of the blue" that makes me laugh.
I grab any scrap of paper I can find and write down what he says so I can read it and laugh again later. I always write the date and what the situation was when he said it, because the context of many of his outlandish remarks is important. Many of these short "quips" are ones that cause the listener to groan. I have a three-ring notebook filled with these statements written on napkins, scraps of paper, paper placemats or whatever I could find to record these happy surprises of laughter. Here are a few that may cause you to laugh or groan, too. (Because of the censor, many comments in the notebook collection could not be printed here.)
My singing is infamous for being awful.  I don't care, I just sing louder.  Robert's comments are never malicious, but often make me laugh.  After a particularly terrible rendition of some long-forgotten song, Robert said, "That singing peeled the paint right off the walls of the front parlor of my brain." 5/27/2002
I told Robert I had a song driving me nuts and then sang it to him.  He said, "Aw, that's awful.  That's like getting an X-ray and finding out you're pregnant with lizards."
A long-ago shopping list contained these items written by Robert:
1. Ham
2. Eggs-medium – from un-abused chickens on the shady side of the hen house
3. American cheese (white)
Another shopping list contained the following items:
1. Bread
2. A million friggin' Bandaids—then maybe I could fine one
3. Green tea
Sometimes he'll spontaneously say something beautiful or profound:

You have to sample the spectrum to see the rainbow.   8/8/2003

The journey creates the significance of the destination.  10/14/2004
Give up on giving up.  9/20/2002
I have a history of causing major disturbances at meetings with schools and agencies related to Kristin's well being.  Robert is usually the "good cop" and I am the "bad cop."  Walking out after the conclusion of one meeting I proudly said to Robert, "I was really good during the meeting."  Robert answered," I provide the context in which you can be good.  A free-range Carol can be a dangerous person."
When pulling up the hood of his new green sweatshirt, he said, "I look like the Grand Legume of the Great Knights of the Green Bean." 11/15/2000
We were talking about Robert trying to squeeze into a new pair of pants.  I asked, "Are you beyond a skosh?"  He said, "A skosh squared." 12/6/2002
Robert's response when I told him we had to do something he didn't want to do—
"I can't.  I'm leaving this afternoon for three days to go to the Hocker Springs Willow Whistle Festival."  11/13/2005
I occasionally have asthma and when Robert is funny it makes me cough.  I always tell him, "Stop, you'll get arrested for killing me."  One morning Robert was driving me to work and made me laugh.  I was coughing and wheezing.  He said, "The police will be able to get me when they see me holding your hand in the "Intensive Giggle Unit " and I'm saying,' Did you hear the one about the grape and the 2x4?'"
On growing old:
When looking at the liver spot on my hand, he said, "That's the stamp they give you to get back into the Geezer Ball."
Referring to standing up after eating a meal at the Spouting Horn Restaurant in Depoe Bay, Oregon, Robert said, "Remember when we used to sit around planning world travel and now we just plan how to get up?"
I was attending a conference in Las Vegas.  Robert was home taking care of the house and the dog.  This is the telephone message he left for me in my hotel room: 
"The dog is happy, fear not.  I was run over by a road grader and put into intensive care where they decided I had to have my eyes switched to opposite sides and it was a very difficult morning, but the dog is fine."1/16/2003
Robert was at our friend's house in Grand Junction.  He called me in Denver and I asked what he was doing.  He said he had been playing the piano for two hours.  I asked if he had heard that Arnold Schwarzenegger had won the election for governor of California.  He said, "Yeah!  I played in G minor for over an hour."
A Terrible Pun:
I had blue berries in a cup with water at the bottom.  Robert said, "You know what you have if you leave blueberries in a cup of water too long in Arizona?  Berry Mold Water."
Goofy Days
Frequently, Robert will have what I call a "Goofy Day" and then he pulls out all the stops.  There's no predicting what he will say and do, but when one of these days comes along, I know it will be fun.  On a goofy day I keep him in sight, have a camera nearby, and stay within hearing range because I don't want to miss a thing.  But, even on "non-goofy days," I'm always attentive for the spontaneous jig, song, or pun.  Rarely does he miss the opportunity to do a soft-shoe dance or peek around the side of something—anything to make me laugh, and he's always successful. Much of his humor is his spontaneous way of responding to things, so I have to be alert.  Here are pictures of a few moments that made me laugh.
Robert is enthusiastically showing Kristin how to make a snow angel.

In 2012 Robert was working on making a new backdoor to carve when he erupted into spontaneous opera.
Robert broke into a soft-shoe jig on the platform he had just constructed. (2012)
In this 1969 picture he's balancing a glob of dog food on his head just because it would make me smile.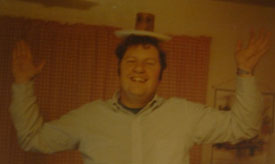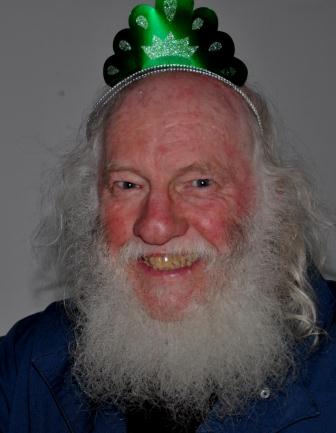 While Robert usually doesn't care too much for socializing and parties, he is always eager to jump right into a family celebration. A couple of years ago our good friends, Bob and Pat, were on vacation and we were taking care of their three cats.   Sister, one of the cats, had her first birthday during this time and Robert and I celebrated with birthday hats, songs, and special cat treats.  It is so marvelous to live with someone who will willingly go along with something like this cat birthday party. (2011)
In 1997 Kristin's Halloween dance in Denver had been cancelled due to snow and Kristin was disappointed.
We decided to have our own dance in her downstairs apartment. Robert dressed up in Kristin's old Halloween costume,
I went as a witch, and Kristin wore the costume she had planned to wear. We had a wonderful time.

We were dancing in the kitchen while making Christmas cookies. Each of us had on our Christmas snowman head bands. (2012)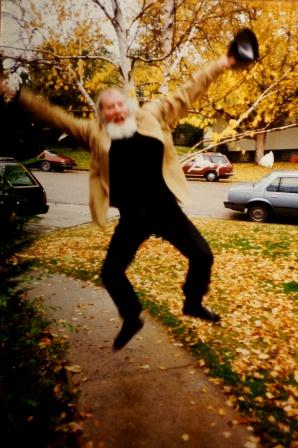 Robert enthusiastically celebrated his 50th birthday when the three of us were leaving to go to a concert.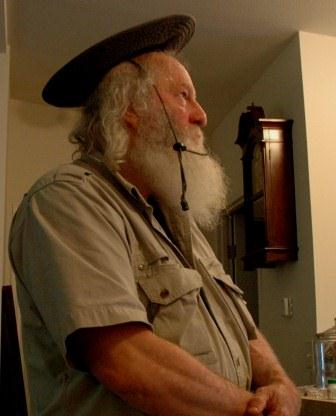 For some reason, Robert tends to leave his many hats in places where, unless you're paying very close attention, you sit on them.   This was one of his favorite hats.  After a car trip, he found it flattened on the passenger seat.  Instead of getting aggravated or irritated, this is how he let us know what had happened.  He didn't say a word.  He just came in from the car with the very flat hat on his head and a dejected, long-suffering look on his face.  There isn't a day that goes by that he doesn't make us laugh.
PLAY
Ongoing "Tag" Game
Robert has the coordination and skill to be very good at sports.  As a young man he was talented left-fielder, pitcher, and a self-described "damn good hitter."  The game, though, that brings out his killer, competitive instinct is tag.  Robert and I have an ongoing game of tag that started before we got married in 1965 and continues to this day.  Many mornings, I was almost late for work because he kept tagging me as I walked out the door and I couldn't leave the house being "IT."   Years ago we had to devise a plan for calling a temporary truce so the other person could leave the house.  The tag games are serious business to the point where injuries have occurred.  One time Robert lunged at me trying for a tag but his foot got hung up on the rug and he wrenched his leg resulting in six months of limping around. But, ever the sport, he said it was worth it.  Now we are both nearing seventy and, while the speed of our avoidance of the other's tag has slowed, so has the speed of the attacker.  So, even though the game has slowed down considerably and we are stiff the day after, the game is still as "hot" as it was in the early 1960s.  Robert describes our competition in "Tag," a section of a book-in-progress titled Uncle Bob's Big Book of Happy. ©2012.
LINK TO the essay Tag
Robert's Dad
Robert's love of play probably came, in part, from his father, Robert Lee Nichols, Sr.  This man certainly didn't have as many goofy days and would not have tolerated some of the pranks Kristin and I pull on his son, but until his dying day in his 97th year he loved certain types of toys that he used to entertain family and friends, whether they wanted to be entertained or not.  Robert's sister, Nancy, and I were always looking for novelties we knew he could use to amuse people.  One of our favorites was "Gaga, the Gorilla."  When sound-activated, Gaga would wave his arms wildly and move across the table.   Robert's dad entertaining with Gaga always made us laugh, not so much from what the gorilla did, but because of watching his exhilaration.
Robert, Jr. wrote an essay in The Great Book of Bob," (©2009) describing Gaga the Gorilla and some unwary visiting neighbors.  It very accurately paints a picture of his father's never-ending enthusiasm for play.
LINK to essay Gaga the Gorilla
Having Fun
Backyard Diving
Diving is a sport for which Robert has the couage, if not the skill.  He demonstrated this in 1975 in a swimming pool we had set up for Kristin in the yard in Greeley, Colorado.  Robert was a joy to watch as he performed his forward-roll dive.

He even taught Kristin his amazing diving technique. Robert has always been an excellent father.
However, the 1975 swimming season ended when one of Robert's forward-roll-dives broke the pool.
Note: A new pool was put up for Kristin a year later in 1976. Kristin's diving skill advanced to the next level and she and her dad added a gymnastic stunt.
Playing on Playgrounds
Fun on playgrounds started in the 1950s when we went to the same elementary school in Webster Groves, Missouri, and this playground fun continues today.  Even now we have trouble passing a sliding board or a set of swings without stopping and going over to play.  We are still great on slides, see-saws, and swings, but we have found out the hard way that monkey bars and everything on a playground that twirls around is too much for us to handle at our advanced ages.  Here is an excerpt from The Great Book of Bob (©2009) which describes my absolute last experience playing on playground monkey bars.
LINK to the essay Monkey Bar Children
Robert's Gull Experience
Robert is always a good sport and Kristin and I take advantage of his patience and good humor as often as possible.  He has a slight aversion to wild birds getting too close to him, so naturally Kristin and I zero in on making that happen whenever possible.
In 2004 while on one of our many trips from Colorado to Oregon, Robert was taking a nap on the balcony of our motel room.  Luckily, his chair was by the balcony railing where a very friendly gull was looking for food.  I like to accommodate the gulls, so I put food on Robert's hat.  Of course I was ready with a camera.  The following four pictures show the gull's interest, another gull swooping down to grab the food off his hat,  Robert waking up with a start, and, as always, reacting in his usual wonderful way.  You gotta love this guy.